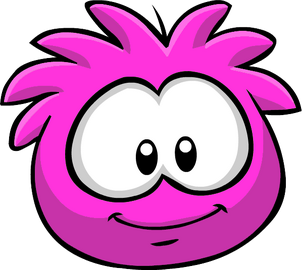 The Hot Pink Puffle/Magenta Puffle is a Bait Item. It was seen being used by Happy77 at May 7, 2012. Hackers were able to get it for about one hour, then they got banned. There will be a Cat Puffle version of this Puffle.
It is only availible by via hacking (Cheat Engine, ect.).
It will cause a 72 hour ban, or forever ban (72 hour if your lucky).
Maybe Club Penguin changed their mind about this puffle, and replaced it with cat puffles or the gold puffle, since they changed the Puffle Party 2012 logo, which was the same for many years. It no longer has the puffle colors on it anymore.
It is most like the red puffle, and Orange Puffle mixed together. Mostly orange though.
It has a yellow tongue.
It is very likely that it would come out at The Fair 2012 for the great puffle circus. Also PH is coming to the party.
WARNING:
Edit
This is a Bait Item. It is only available via Hacking, AND I HACK. This will result in a 72-hour or forever ban.
Proof and Sightings
Edit
Ad blocker interference detected!
Wikia is a free-to-use site that makes money from advertising. We have a modified experience for viewers using ad blockers

Wikia is not accessible if you've made further modifications. Remove the custom ad blocker rule(s) and the page will load as expected.