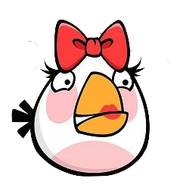 The Make-Up White Bird MIGHT be coming soon to Puffleville. It is weird why they made this bird since Matilda the White Bird is already a female. But this one has make-up on. They made this bird before Matilda turned pink, gets eye lashes, and even got her name! This might mean that she was meant to be a male but Stella the Pink Bird and Female Red Bird were the only female birds so maybe the changed their mind.
Ad blocker interference detected!
Wikia is a free-to-use site that makes money from advertising. We have a modified experience for viewers using ad blockers

Wikia is not accessible if you've made further modifications. Remove the custom ad blocker rule(s) and the page will load as expected.