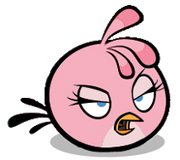 Stella the Pink Bird (aka the Pinky Bird, Girly Birdie, Girly Bird, Girl Bird, Bubble Bird, Blower Bird, or the Wand Bird) is a new bird that has only come out in Angry Birds Seasons: Back to School. Its power is to blow bubbles that can make things go into bubbles, including pigs like in angry birds space. The Pink Bird also apeared in a mini movie that confirmed it will be coming in the new angry birds seasons update. The Pink Bird was blowing bubbles when she saw the Bad Piggies plotting how to get the Eggs. She got angry and blew a bubble that looked like an egg, and the pigs followed it of a cliff. This was thought to be her power, but was proven false. her power was said above.
Stella's name is similar to a character named Stella from the nickelodeon show Winx Club.
Ad blocker interference detected!
Wikia is a free-to-use site that makes money from advertising. We have a modified experience for viewers using ad blockers

Wikia is not accessible if you've made further modifications. Remove the custom ad blocker rule(s) and the page will load as expected.