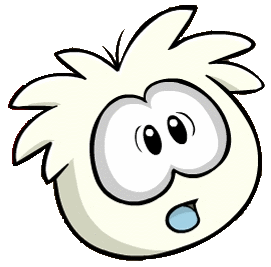 White Puffle
Edit
The White Puffle is a Puffle in Club Penguin. It was discovered during the Puffle Party 2009 at the Dojo and ski hill hiding in an O berry Bush, and were available to be adopted March 2009. White Puffles are known for their ability to breathe ice. They are only adoptable for members. They are smaller than the rest of the puffles, therefore making them unique, and may be related to ninjas, due to that fact that they slice their cookies like ninjas and they sleep like the stone puffles at the Dojo, plus they were discovered in the Dojo.
The Puffle was released after Club Penguin: Elite Penguin Force came out, and therefore was not an original Elite Puffle. However, in the downloable mission, Puffle Prankster, an unnamed White Puffle appears. He later reappears in Herbert's Revenge by the name of Chill
Evidence of the White Puffle existing.
Ball Pit in the Forest
Edit
In the Forest during the Puffle Party 2009, there was a ball pit with all the colors of existing Puffles, plus some white colored balls. This highly suggests that the white puffle will be a new puffle.
During the Puffle Party 2009, there were strobe lights showing all the different colored Puffles dancing around a white/gray Puffle in the Pet Shop.
Notice that all the colours were around the grey one, except for black? That's because the one in the middle is black.
Wallpaper
Edit
In a February 2009 Puffle themed wallpaper, the wallpaper showed one puffleof each color, as well as a puffle shaped shadow with two eyes in a piece of furniture.This was probably meant to be a hint for the white puffle. In this case, maybe white puffles can be transparent like a ninja.
White Puffle in a video!
Edit
The white puffle is in the puffle party 2009 video in the puffle stampede.
White Puffle engraved on the Dojo
Edit
White Puffle engraved on the Dojo wall. Maybe Sensei brought the white puffles back.
White Puffle is behind Rockhopper!
Edit
That White Puffle hid behind Rockhopper. It looks sneaky, maybe its a ninja puffle.
We are rounding up a white puffles?!?
Edit
The White Puffle appears in the fun game Puffle Roundup but they don't appear as often as the other puffles do. In the start when it came to the game it was in Puffle Roundup pretty often but not anymore. The reason they appeared is because the game is tooken place in the wilderness where the white puffles used to hide.
Official Release
Edit
The Club Penguin Blog said that white puffles will be released on March 6, 2009. It's Here!!!Yay!!!!!!!!!!!!!!!!
Ad blocker interference detected!
Wikia is a free-to-use site that makes money from advertising. We have a modified experience for viewers using ad blockers

Wikia is not accessible if you've made further modifications. Remove the custom ad blocker rule(s) and the page will load as expected.